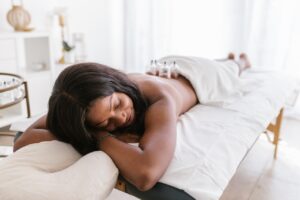 Cupping Therapy is an ancient form of treatment where a therapist puts special cups on your skin for a few minutes to create suction. The suction expands and breaks open tiny blood vessels sending blood to the area to stimulate circulation, soften tight muscles and promote the healing process.  People use cupping to help with pain, inflammation, and relaxation. Cupping therapy can leave red or purple circular marks on the treatment area which can last for 4-7 days.  
A cupping therapy appointment lasts 15-30 minutes.  Some conditions where cupping therapy can be helpful include back pain, headache, TMJ and injury.
For non-patients, please call 317-938-4559 ext.1 to schedule your InBody Appointment.