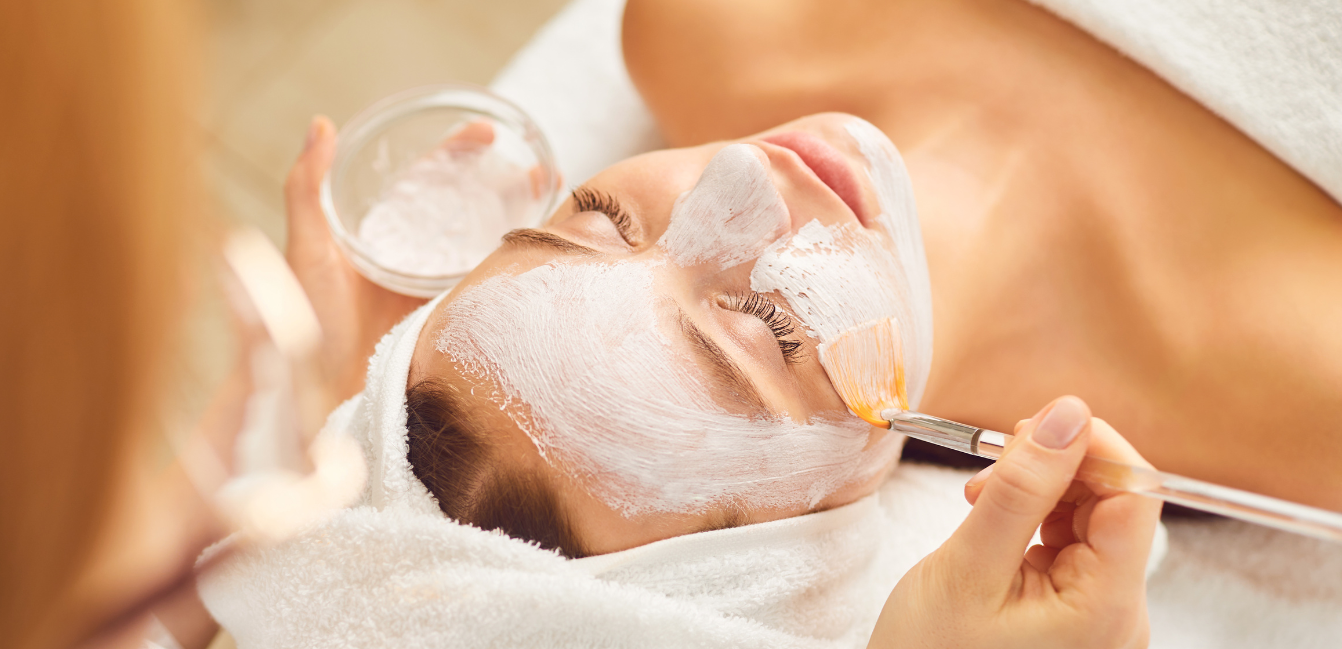 Our Organic facials are individually customized to enhance, nourish, and restore your skin using the highest quality products from Eminence and Epionce. We combine massage, biomat, LED mask, and the finest organic products to give you a luxurious, revitalizing experience. Our experienced aestheticians will customize your facial to meet your skin care goals and help you look radiant and refreshed! Enhancements include masques, medical grade peels, dermaplaning, lip treatments, and radiofrequency which can all be included with your Organic Signature Facial.
Signature Facial – $150
Anti-aging, Calming, Brightening, Anti-acne, or Hydrating: After a thorough consultation, your aesthetician will choose the perfect ingredients for your relaxing facial that will leave your skin radiant and feeling rejuvenated. Your first facial with consultation will be 75 minutes. Subsequent facials will be 60 minutes. 
Men's Facial – $115
He likes to be pampered too! Our Men's Facial includes steam, deep cleansing, extractions, exfoliation, light massage and mask in a 45 minute service. 
Teen Facial – $115
Relax and refresh with this 45 minute facial customized to meet the skincare needs of teens. Deep cleansing, gentle extractions, and skin balancing to keep their skin glowing. 
Express Facial – $75
Our 30 minute Express Facial is perfect for when you are in a hurry or to pair with our Enhancement Services. 
*Enhancements can be added to any of the above services including: Dermaplaning, Lip Peels, Radiofrequency, Medical grade Peels.
HydraFacial is a hydradermabrasion procedure that cleanses, exfoliates, extracts, hydrates, and infuses facial serums all at the same time. This can result in clearer, more beautiful skin without invasive procedures or painful peels.
BASIC HYDRAFACIAL $175
This invigorating treatment includes deep cleansing, exfoliating, and extracting impurities from the skin while simultaneously infusing nourishing ingredients to hydrate the skin. 
DELUXE HYDRAFACIAL $200
Includes Basic HydraFacial plus a personalized Booster to address your specific skin concerns and LED Light Therapy or Lymphatic Treatment to reduce the visible signs of aging.
PLATINUM HYDRAFACIAL $225
This ultimate HydraFacial experience includes a Basic HydraFacial with added Lymphatic Treatment, a personalized Booster and LED Light Therapy to further reduce the visible signs of aging.

Eminence
Eminence believes in providing the best skin care products possible. Their Certified Organic products are proudly free of parabens, propylene glycol, sodium lauryl sulfates, harmful colorants and fragrances, mineral oils, petroleum, and other harsh cosmetic chemicals. Eminence products are handmade without any severe heating or hydrogenating processes that can affect the nutritional content and potency of natural ingredients.

Epionce
Epionce's gentle and effective formulas are paraben-free, fragrance-free, sulfate-free and gluten-free. To improve the overall health and appearance of the skin, Epionce uses restorative botanical ingredients that incorporate powerful multifactorial antioxidants along with barrier boosting cholesterol, ceramide and free fatty acids in proven concentrations.